Mylapore Chudar Covid Relief Work – 12th May
Chudar identified 10 single-parent families in the Mylapore area for grocery distribution efforts today. The children in these families have lost either one or both parents or in some cases have an alcoholic father whose presence and contribution to the family is nil. Day-to-day life for these families has been a big struggle which has been further enhanced due to Covid lockdown. 
Mariyammal lives in Mylapore with her grandson Tharun. Tharun lost both his parents to illness at a young age. Mariyammal worked as a domestic helper in nearby homes to support herself and her grandson. Fear of Covid caused her employers to terminate her employment and she has been unemployed for the past year. They live in a rented house and with every passing month it has been extremely difficult for them to pay the rent and buy basic provisions. Grocery distribution from Chudar has come as a relief for them in these trying times. She conveyed her heartfelt gratitude to the Chudar team and all the volunteers.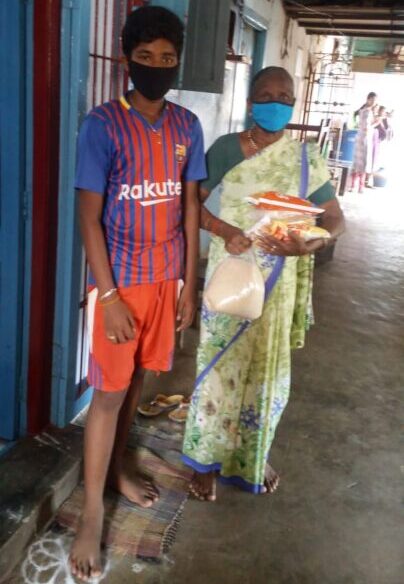 Murugan is an alcoholic whose drinking habit has caused him to be completely bedridden. His daughter Pavithra is a part of the Chudar Mylapore centre. Pavithra's mother passed away recently due to a heart condition. She was temporarily in the care of her grandmother, who is now critically ill. Since her father and grandmother are sick, Pavithra is being cared for by an impoverished relative who is unable to put one square meal on the table.
The family was extremely happy to receive the food provisions from Chudar. We hope this will help the family temporarily tide over their troubles during the lockdown.