Distributed essential groceries to 20 families with single mothers
As part of the COVID-19 relief measures, Chudar has identified a few single-parent families in which mothers are finding it difficult to meet basic food requirements due to the present lockdown in Chennai.
All these mothers are dependent on their meager incomes to meet their day-to-day requirements and have been confined to their homes due to the lockdown. Many were working as domestic help and are currently unemployed as their employers have requested them not to come to work during the pandemic.
Chudar volunteers mobilized and distributed groceries to 20 such families in Jothiammal Nagar in Saidapet and Gothamedu today. The families were happy to receive the grocery items and thanked the Chudar team.
While everyday life has been a struggle for every family that we were able to help, there were two families whose life stories touched our hearts deeply.
Malathi is a single mother with two children, a girl aged 4 years and a little boy aged 2 years living in Jothiammal Nagar in Saidapet. Her husband who was a mechanic passed away last year. After her husband's demise, to run the family, she took up work as domestic help in two places. Her income from the above service and widow's pension helped her sustain the family.
Due to financial constraints and lack of time to take care of two small children she was forced to send her elder child to stay with her parents. Unfortunately, due to the widespread Covid in their locality, her employers refused to allow her to continue to work for them. Adding to her misery, her elder child was also sent back home as her parents could not maintain her.
Over and above, the lockdown situation brought her life to a standstill and she was wondering how to feed her children in the coming days. In this situation, when Chudar volunteers went and handed over the grocery packet, she was overwhelmed with emotion and said that this would sustain her family for a month. She profusely thanked Chudar for their timely help.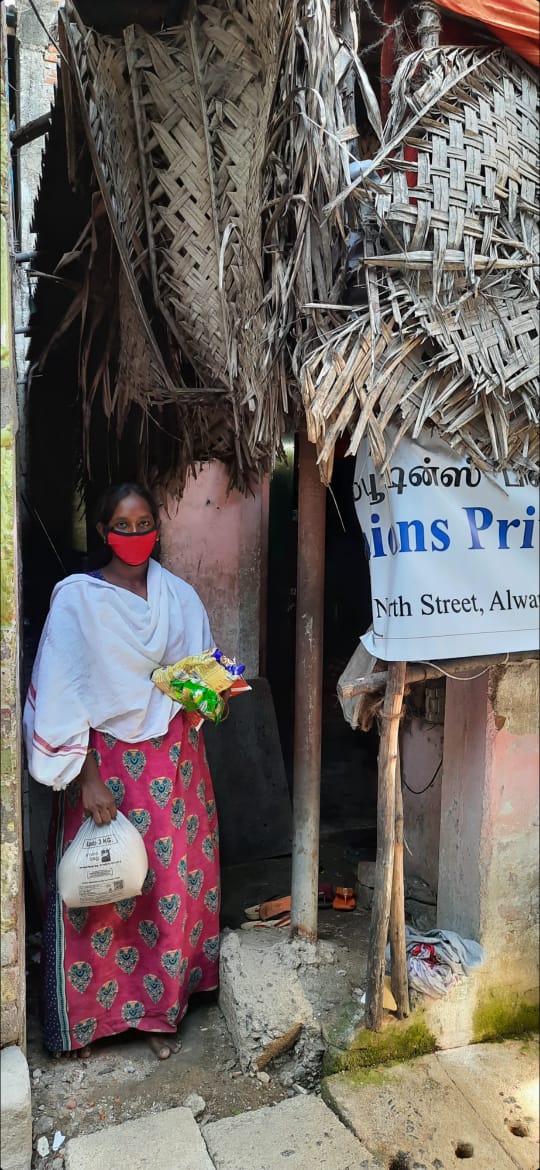 Syed Ali lives in Gothamedu. She lost her husband who was the sole breadwinner of the family, three months back, leaving her and her two small children to fend for themselves. Due to the grave situation due to Covid, she has been unable to find any job till now.
She has hardly any money to buy food and no extended family to support her and her children. She is managing her family expense with Rs 100 – 200 given once in a while by some kind people.
When she received the grocery from Chudar volunteer she was very touched. She expressed her gratitude to the entire Chudar team and the donors. She said that, with the grocery she received, she could peacefully feed her children for a month.
Help us provide relief to such families during these tough times by donating to our fundraisers.