Chudar COVID-19 Relief Update # 4
Day by day the COVID-19 situation across the world paints a grim picture. The lock-down extension has been extremely difficult to manage especially by those who are economically most vulnerable. Rays of hope in the form of benevolent donors continue to spread light among those who thought that nothing could help them.
Update onChudar's relief work in the past week:
Groceries and Sanitary kits distributed to:
200 families across 15 communities in Guindy, Godhamedu,ICF, Kotturpuram, Mylapore, Mandaveli, Teynampet, Saidapet, Triplicane, Adambakkam, NGO colony, Nagamalai village Chengalpet.

2000 masks made and 1500 distributed to families
Our local volunteers share some heartwarming experiences of gratitude and hope from the field:
Karthika works with Chudar as a resource person, but during the lock-down she expressed interest in doing relief distribution to the neediest families near her location. So far she has been able to reach 35 families in a span of 1 week with Relief kits consisting of grocery and sanitary supplies, sanitizers and re-useable masks. While talking to her about her experience this is what Karthika had to say:
"When I started doing the distribution of the relief kits, I had no idea that there were so many needy and vulnerable people, each of the families had their own set of problems. One, in particular, moved me a lot.

As I was passing through the Sithalapakkam lake area, I got to know of a family of 3 children studying in 9th,8th and 7th, from their neighbours. They had lost their mother and were living with their alcoholic father who does not go to work regularly and does odd jobs. Many times their neighbours said that the children fend for themselves with no help at all. I found that the boy used the money he got out of collecting and selling the liquor bottles, scrap materials and waste paper to pay for his sisters and his notebooks and other school materials. Sometimes he would go fishing with his younger sister to the lake while his older sister would take care of the house. They were very reluctant at first to accept the Relief kit and some clothes. When I asked the kids what they wanted they replied "Akka we want to study well and get good marks"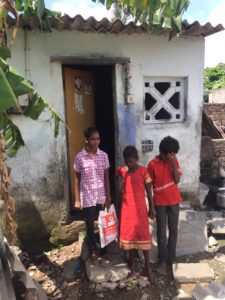 Hema from Cheyyur works with Chudar's school team. She decided to help in distributing relief kits when she got to know that many old people in the nearby villages in her were not even able to get a decent meal.
"When I went and distributed the relief kits to around 30 families, little did I know that I would meet a 108-year-old woman! Kannamma served as a nurse in a PHC in her days but now lives by herself in a small hut. Her 3 daughters are married and live with their families in different locations. Kannamma is barely able to walk and moves about by crawling. She takes care of her needs through sheer grit. She is helped by the people in the neighbourhood with some food. As I kept the groceries at her doorstep, she said I have seen so much in my long life as a nurses care of her needs by crawling. She is helped by the people in the neighbourhood with some food. As I kept the groceries at her doorstep, she said I have seen so much in my long life as a nurse, but nothing like this ever, I pray that this gets over soon and the people of my village are able to live normal lives. Then with tears in her eyes, she folded her hands and thanked me. I couldn't move! I was so overwhelmed by her gesture. I'm really happy to have gotten the opportunity to serve people in the time of their need."