Chudar COVID-19 Relief Update #2
As a first step in relief work during the COVID -19 pandemic, Chudar and its volunteers identified the most needy families in the slum areas across Chennai and near by districts and provided them with groceries and sanitary kits to help them sustain themselves during the lock-down.
So far Chudar has reached 100 families in the following locations:
Guidy, Godhamedu,ICF, Kotturpuram, Mylapore, Mandaveli, Teynampet, Saidapet, Triplicane, Adambakkam, NGO colony, Nagamalai village Chengalpet.
Chudar also realized that many families were out of work and wanted to do something constructive about it
Vasanthi was employed as a housekeeping staff in a company, but since the lockdown, she did not have any work. With 2 young children to take care of and her husband, a daily wage labourer, her future was very uncertain. Chudar approached her with the idea of making reusable masks according to the design prescribed by the Government of India and give to the people in her community. Vasanthi was elated by the idea as she did do a bit of odd jobs in tailoring and this would ensure her some economic stability. Soon she received the material and the design translated in Tamil with the details of making the mask through a local volunteer. In the next couple of days she managed to make 100 masks and they were distributed to many families in her community. " I'm really happy that I'm able to use my tailoring skills and help my community. I'm very grateful to Chudar for this initiative" said Vasanthi.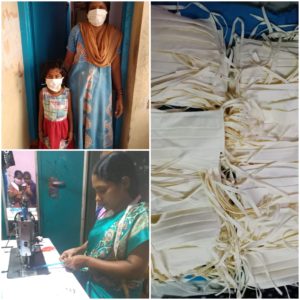 Many others like Vasanthi have come forward and have made around 1000 masks to be distributed to the community.